Young Adults' Christmas Party
Friday, December 7, 8 - 11 PM 
Location:  125 Guest Street, Brighton (3rd Floor Community Room)
Come enjoy holiday cheer and kick off the Christmas season together as family! There will be an amazing food display, holiday decor, music, and games. Inviting guests is encouraged.
Budgeting Foundations
Sunday, December 9, 8:30 AM
Come learn some practicals in budgeting!  We all want to be generous givers and good stewards of what we have, and this class will help you get started.  Join us on Sunday, December 9 @8:30AM at church.  Email us to sign up!
Christmas Wrap Up
Saturday, December 15, 12 - 4 PM
Join us at the Watertown Mall (where Target is located) as we offer free gift wrapping services to those shopping.  This is a fun time to meet people in our community and bless them practically!  Sign up for a time to serve.
Family Zone Christmas Party
Sunday, December 16,  4 - 6 PM 
Location:  Antioch Waltham 17 Spruce Street, Waltham
Join us for our annual Family Zone Christmas party!  All are invited to come for family friendly games and fun.  Please bring a plate of cookies or goodies to share.
Christmas Eve Candle light Services
Monday, December 24th, 4 PM and 5:30 PM
Come celebrate Christmas with us at our Antioch Waltham location (17 Spruce Street, Waltham).  We are offering family-friendly services at both 4 and 5:30 PM.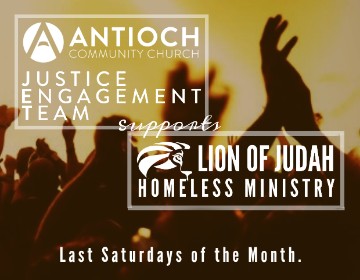 Justice Engagement Team Serving Lion Of Judah Homeless Ministry
Saturday, December 29th (and every last Saturday of the month), 8 - 11 AM
Join our Justice Engagement team as they serve alongside Lion of Judah's Homeless Ministry.  Sign up here for more information or to sign up to serve.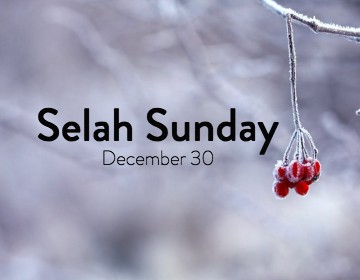 Selah Sunday
Sunday, December 30th, NO Sunday Services
This year we will purposefully take a pause from our normal Sunday gathering for what we are calling "Selah Sunday".  On this Sunday we will not meet corporately, but instead we encourage you to spend time with family and friends.  We will be sending you a guide you can use to reflect on God's goodness as we end a year and look ahead into a new year.  Stay tuned for more information, but be sure to mark your calendars that there will be no services on December 30.
Baby Dedication
Sunday, January 6th, 10:30 AM
During our Sunday service on January 6 we will be having a time of baby/child dedication.  This is a time for parents to commit to teaching their children about the Lord and how to walk in His ways.  If you are interested in having your baby/child dedicated, please let us know!