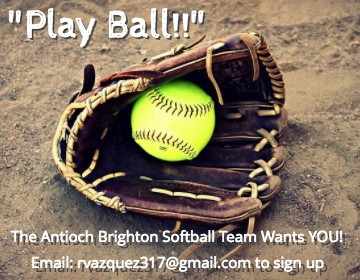 Church Softball Team
"
Join our slow-pitch, co-ed church softball league.  We are looking for players of any and all skill level with games being played on Saturday's (either in the Commons or Cassidy Park in Cleveland Circle).  If you are interested in joining the team, or learning more email Raquel Vazquez or Caitlin Ryan. We also invite you to come watch and support our team!
All Church Summer Picnic
July 23rd and August 13th, 12 PM
Bring a lunch (or grab something on the way) and join us right after church for an all church picnic immediately after our Sunday service at Rogers Park. It's a great time to meet someone new!
Young Adult Missions Trip
Don't miss an opportunity to join a team serving Detroit, Michigan alongside Antioch Ann Arbor Church this Summer!
To find out more or to apply to be a part of the team, email
Whitney Naslund.
Antioch Family Camp
Families and married couples, join us for a memorable family camp in Toah Nipi, Rindge, NH. Space is limited since its shared between our churches - REGISTER NOW!