Race Dialogues
Weekly
Race Dialogues is a 6-week discussion series born out of a conviction that as believers in Jesus we must not turn away from the racial sin and brokenness in our nation, but face it together and cry out to Jesus in whom we have true hope of restoration. It is a guided and facilitated series of discussions within a small, committed group and is open to believers from all backgrounds, races and levels of awareness. We share our stories, we study and discuss content, we respond with lament, repentance and prayer, and we talk about how to live justly as a unified Body of Christ.
Sign Ups are open until July 5.
Virtual Prayer
Monday - Friday // 7AM, 12PM &  8 PM
Join us for any of our prayer meetings taking place 3 x's a day!  This is open to anyone wanting to pray with others.  Jump in via Zoom!
Virtual Prayer - Nations
Mondays,  8 PM
Our Monday night prayer gatherings are focusing prayer on the nations.  We know God is working everywhere in the world, and it is our desire to partner with Him in seeing the gospel made known to all people.  Join us in prayer Monday nights at 8 PM  @ Zoom Link.
Virtual Prayer - Racial Unity
Wednesdays, 8 PM
Our Antioch New England community has begun a weekly meeting focused on racial unity in our community. Come see what we're doing, what opportunities are available, and simply to interact with others in a sensitive space during these turbulent times. The local church is here to learn and respond in humility.
WHAT: 8 - 8:30PM | Vision and Reflection, 8:30 - 9PM | Prayer hosted by our Justice Engagement Team leaders
WHEN: 8 - 9PM @ 
Zoom Link 
Virtual Prayer - Worship
Fridays, 8 PM
Worship Fridays have kicked off in the ANE Prayer 8 PM slot. We know many of you are missing worship with others, and our worship leaders are missing YOU!!
Join us as different leaders from the movement make space from their homes to lift Jesus high. Each week will look slightly different depending on who is leading- from devotional worship, to song-sharing, to interactive corporate worship/prayer. All are invited to song with, play along, or just listen @ Zoom Link .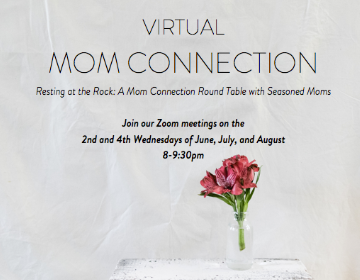 Mom Connection Round Table with Seasoned Moms
Wednesdays, 8 - 9:30 PM
This summer we are going to have women who have walked the road before us share their stories and testimonies of how God has truly been their rock.  We want this to be an enriching and encouraging time for us where we can soak up the wisdom of others and have a round table discussion about what is on our hearts.  
We will be meeting on the 2nd and 4th Wednesday of June, July and August.
Justice Engagement Team Serving Lion Of Judah Homeless Ministry
Saturdays // 8 - 11 AM
Join our Justice Engagement team as they serve alongside Lion of Judah's Homeless Ministry.  Sign up here for more information or to sign up to serve.